Here is a story featured today in The Huffington Report.

Jairo Miguel Sanchez Alonso, Teenage Spanish Matador, Faces 6 Bulls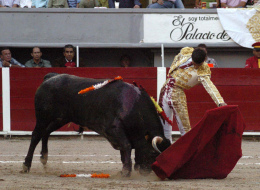 In CACERES, Spain
Harv's Comment:
The last bull fight I attended was in Mexico. As the bull was entering the arena, there were some guys on armored horses. They had long sticks and those also had knives on the end and they stuck the bull, deeply, multiple times. I think it was in the bulls neck.
Then he was stabbed a number of times by guys running and putting a stick with kinves at the end and the bulls had to run or walk with all these in his body.
Now the bull is severely bleeding and in terrible pain. The brave Matador enters now with his cape and skillfully makes the bull run a number of times, I would imagine, to assure that the bleeding will continue unabated and that the bull will just about come to his knees most likely praying for death.
The Matador takes his sword and pushes in into the bull to sever the spine but often is grossly incompetent so the bull just screams in agony. The Matador does this again and again and then struts around thinking he actually accomplished something killing this wonderful animal.
The reason the crowd cheers really escapes me. Barbaric is appropriate if there was any semblance of sport or dignity. This is barbarism to the10th power. How we kill livestock is a separate issue, yet, we do not pay admission and cheer. What I saw in the arena in Ciudad Juarez some 50 years ago still haunts me in flashbacks.
I'm sorry but the fact that they eat the bull does not make me feel any better.